Reality Lovers
Over 200+ VR videos
Direct streaming in your browser
Exclusive video with Micaela Schäfer
Free VR glasses after completing a subscription
1 new video each week
Different payment methods
Reality Lovers is another VR porn studio which vies for the favor of virtual reality fans. Founded in London in early 2015, the studio offers a unique feature that I will describe later in the review. Meanwhile, the Reality Lovers website contains a wealth of porn for virtual reality glasses. At the time of my review, over 200 VR porn videos are available for download. Eeach week one new scene is added. I subscribed to Reality Lovers and will write down my experience here. How the studio is performing compared to the competitors, you can read in the following review.
Eazy breezy to use members area
Similar to WankzVR, Reality Lovers also offers a members area in German. Especially VR users who are not very good in English language will be happy about this. Although it should be possible, even for absolute English laymen, to fight through English-language VR porn sites like BadoinkVR, nevertheless it is easier to navigate in German language. However, there is not much to navigate with Reality Lovers. Because at first glance, the members area is identical to the freely accessible counterpart.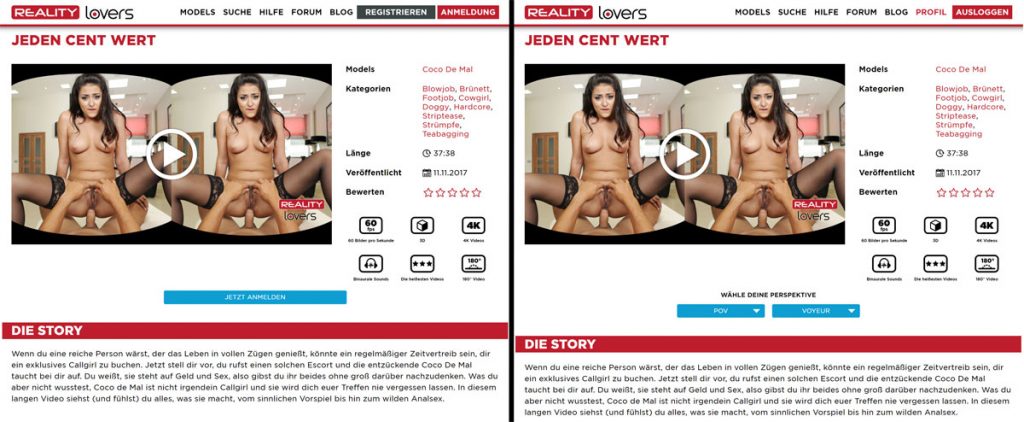 As you can see in the picture, the only difference is that as a member I can download VR videos immediately. The stories about VR porn are translated in simple German. Nevertheless one can understand what the scene is about. However, I doubt that the texts are read. Man is distracted by other things, so the blood is in other parts of the body 🙂
Forum for suggestions, ideas and assistance
Furthermore, I can rate videos and call my profile. Do you have suggestions, ideas or you are angry? This is the forum for you. In various categories, you can exchange ideas with like-minded people, make suggestions for scenes and inform you about upcoming videos. But compared to BaDoinkVR, there is not much going on in the Reality Lovers Forum.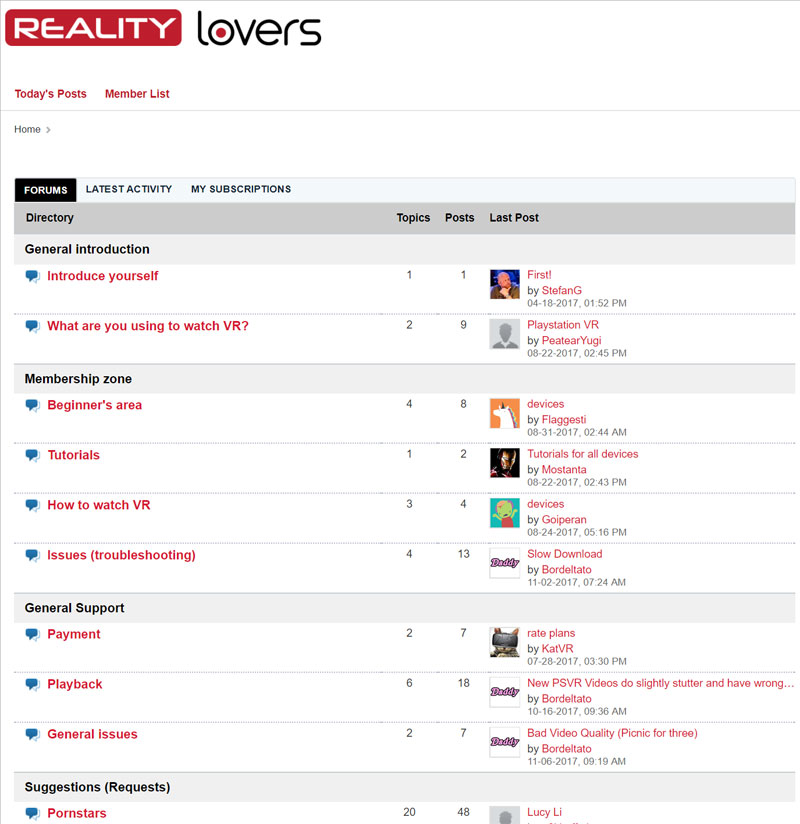 Despite everything, there are some interesting topics. Most subscribers will not use the forum either way. What is not a shame. The admins are trying to fill the forum with content. However, you need to be able to understand English to use the forum.
POV & Voyeur view for more variety
In the introduction, I mentioned that Reality Lovers offers a unique feature that I've never seen before at any other VR studio. The videos can be downloaded either in POV or voyeur view.
POV: POV stands for Point Of View, which means " point of view of the actor". This is the view that you get from all the VR studios. That way you see the event from the point of view of the actor.

Advantage: This view makes VR porn so unique. You seem to be right in the middle of the action. As if you were the actor in the video.

Voyeur: As you can already imagine, in this perspective you take the passive view of a "voyeur". Usual porn movies as we know them from the past have been and are mostly shot in this view.

Advantage: It feels like you are really sitting in front of a couple that is having sex.

So theoretically you are receiving twice as many VR videos. However, the voyeur view is not available for every clip. This view is also not for everyone. Nevertheless, it is a unique feature and "nice to have"!

Reality Lovers - Ultra Realistic Porn Experience in Real 3D
Reality Lovers - Download free sample videos now and watch them immediately with your VR glasses
Huge selection of VR porn with weekly updates
At the time of my Reality Lovers Review (10.07.2018), there are over 200 VR porn movies available for download. If you count the voyeur view, then it is about 300. A considerable number. As many as at Naughty America VR. You can get to the overview of all videos under the menu item "Search". Here are numerous categories to choose.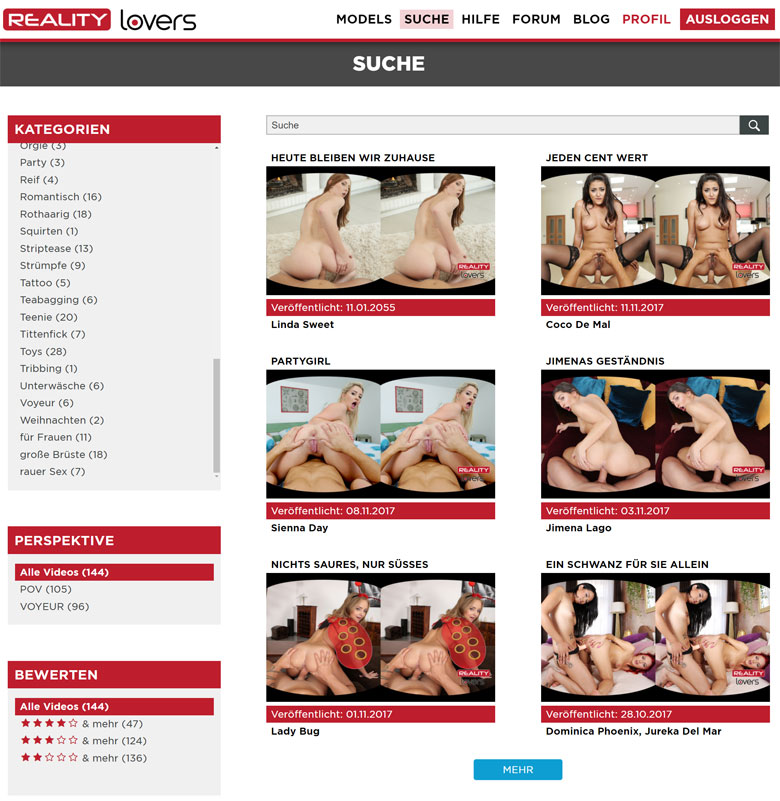 That way you can quickly filter the movies according to your own preferences. Whether anal, blowjob, threesome or big breasts, here you can find everything for every taste. You can also sort by ratings or enter your own search terms.
Exclusive: Micaela Schäfer in virtual reality
Reality Lovers is always trying to get popular stars in front of the camera. One of the most successful projects of the studio is the exclusive scene with the German erotic actress Micaela Schäfer. It is clear for almost everyone, that Micaela is not seen in any sex scene. Nevertheless, it is worth it to see Micaela that close in virtual reality. You will not get any closer to an unclothed Micaela.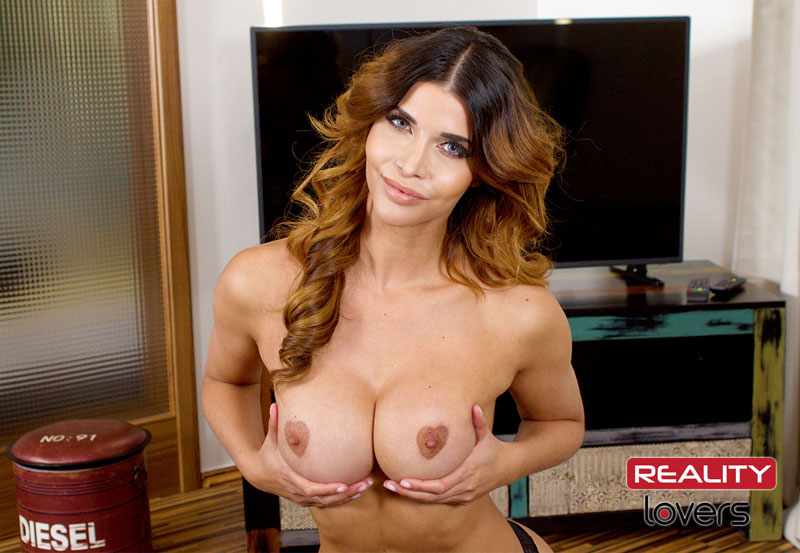 I have contacted Reality Lovers regarding this and they told me that they have tried everything, but Micaela is (currently) an erotic actress with certain limits.
Popular actresses from the porn world
The London studio also has many other pornstars to offer, who show everything. Anna Rose (one of my favorite actresses – also seen in Czech VR), Anissa Kate, Katy Rose and Kayla Green, are just a few of the numerous sexy women who sweeten our VR life. The selection is first-class. For my taste, Reality Lovers includes the best actresses in the VR industry.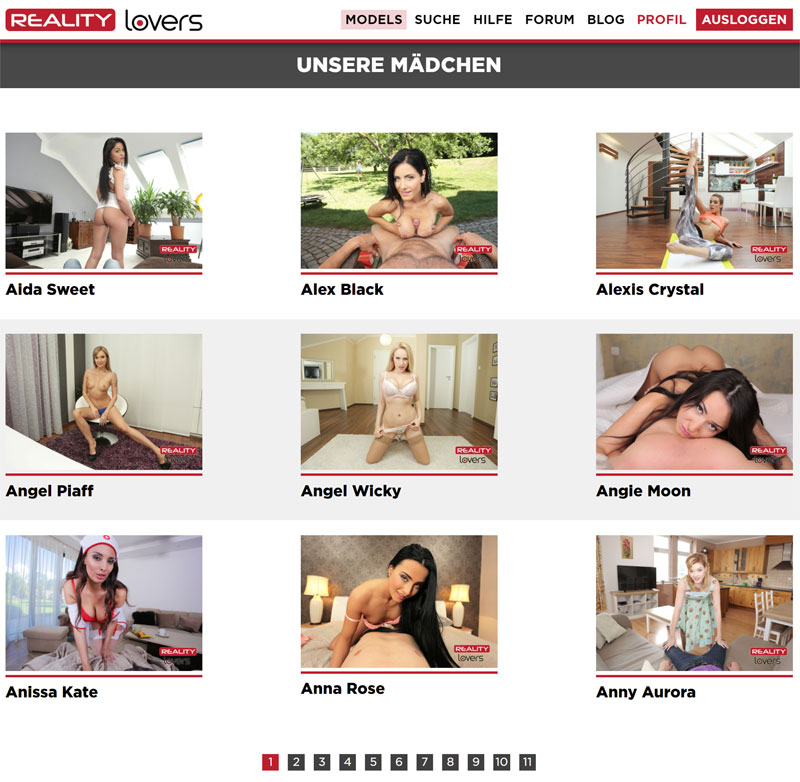 4K quality & intense immersion
The quality of Reality Lovers releases is – compared to the industry – very good. The days of pixelated VR porn fortunately belong to the past. At least if you choose a VR Studio with subscription model. Surely, the allurement to stream free VR porn is high. But those can (in my opinion) destroy the desire for VR porn. They often offer a low resolution and are usually heavily pixelated. That way there is no real VR feeling. Of course, everyone has to decide for themselves in the end.
Back to Reality Lovers. The videos are filmed in native 4K resolution, true 3D, with 180 ° view and 60 frames per second. As a result, the clips are crisp and sharp and provide an excellent VR feeling. Due to the 3D optics and the 1: 1 head tracking, the impression arises, as if there is really one of the actresses in front of you. I still experience the immersion, even after such a long time of VR porn consumption.
I have tested some VR studios in the last few years. Here, the providers offer nothing special. In the end, only the personal taste counts. Costs for the subscription and the available female performers are the decisive aspects for many.
Download options for Oculus Rift / HTC Vive, Gear VR & Smartphone
As usual in the VR industry, Reality Lovers also offers various video formats for different VR glasses. The video format is crucial for the picture quality. The VR porn for Oculus Rift / HTC Vive, offer the highest image quality and resolution. Here you get a real 4K resolution in 3D with 60 frames per second. The picture and the animations are correspondingly sharp and smooth. However, this also affects the file size. Most VR videos have the size of 5 gigabytes. Some more, some less. Of course, the file size varies according to the length of the clips. The playing time is usually between 20 to 30 minutes. Ideal for a relaxing evening.

Reality Lovers does not offer porn specifically for the Playstation VR. However, this is not necessary. All formats can now be played with PSVR. If your VR glasses (such as your smartphone display) do not offer a sufficiently high resolution, it makes sense to download the smaller formats. Here the file size is drastically reduced. The smallest video format is about 2 gigabytes. However, the resolution is only 1920×960 and 30 frames per second.
Interesting for your girlfriend: 9 VR porn clips for women can be found in the Reality Lovers library.
Direct streaming is currently not possible! There is a reason to criticize in the download speed. At least at the time when I wrote this review. At peak times (between 17 and 23 o'clock), the download speed is not sufficient. With a 25,000 DSL connection, I get only 1 MB per second. At night the full speed is available. Like on other VR site the numbering of VR videos is not optimal. I usually do not know which video was released when. A serial numbering from 001 to 999 would have made sense. So I have to do it by myself when I save the videos.
Pay per download
Reality Lovers offers only the payment per download. This means that you can get for example for 25 Dollar 5 VR clips. The more you are willing to spend, the more videos you can download. For 60 Dollar you get 15 videos and for 99 Dollar you get 50 videos. According to this the download of all VR clips is expensive. If you still agree with this subscription model, follow this link. If not, read on.

Offer with monthly billing exclusively at vrporn4k.net
I was able to negotiate a deal with Reality Lovers and can offer you exclusive access to the subscription model! So you can download as many VR clips as you want for a monthly fixed amount. Here are two subscription models available. Either 29.99 Dollar a month or 69.99 Dollar every three months. As an addition you get free VR glasses (also in Germany)! You can pay with credit card or Sofortüberweisung.de. You get to the exclusive monthly subscription here.

Reality Lovers Review – Conclusion
The VR air for my favorite WankzVR is getting thinner. The more studios I test, the harder it gets to rate. But WankzVR still remains my number one because of the immersive experience. But Reality Lovers offers many benefits that are included in the positive rating. Such as the excellent picture quality, the large selection of VR porn, the voyeur mode, the very attractive actresses and the exclusive video with Micaela Schäfer.
The current disadvantages are the slow download speed to the Prime Time and the, in comparison to the competition, more expensive billing prices. It also annoys me that the videos from every studio are not named properly. The same on Reality Lovers. Despite all, I can recommend Reality Lovers unrestricted to any VR fan.
VR Site with exclusive voyeur mode and hot girls
Reality Lovers scores well in the review. The exclusive content and the voyeur mode are unique features that no other studio offers. The video quality is at an absolutely high level. The actresses are highly attractive and perform very good in front of the camera. Reality Lovers offers great immersive feeling. It is worth a look!
PROS
Over 200+ VR videos
Direct streaming in your browser
Exclusive video with Micaela Schäfer
Free VR glasses after completing a subscription
1 new video each week
Different payment methods
CONS
Sometimes slow download speed
Weak Members Area

Reality Lovers - Ultra Realistic Porn Experience in Real 3D
Reality Lovers - Download free sample videos now and watch them immediately with your VR glasses