WankzVR
Over 200 VR Porn clips in high quality
Huge portal with thousands of videos
Great image quality
Hot Actresses
Numerous video formats for Oculus, PSVR, Gear VR
Very good price-performance ratio in the annual subscription
2 new VR videos each week
WankzVR also uses Virtual 3D VR technology to give the user a close-up sex experience with the hottest pornstars in the world. As the name suggests, the VR Studio belongs to the main company Wankz. The company is known for high-quality porn movies in the best 4K quality.
Now, Wankz lets us experience the ultimate porn-feeling in virtual reality. Similar to most VR studios, this is also a VR studio with US actresses. I have granted a WankzVR subscription and share my experience in the following with you. As always, there is a conclusion and the rating at the end of the review. Let's go.
Access to 31 portals!
After I received my account data by E-Mail, I directly logged into the customer area. At first glance, I do not see a big difference to the sales side. Everything is logical and I can handle it right away. Until I discovered the upper rider.

The scope killed me. Although I had informed myself in advance about the VR porn offer by WankzVR, I did not paid attention that I also get access to tens of other porn sites of Wankz. A nice feature that I appreciate. In the following I will briefly discuss the other pages that are included in the VR membership.
Wankz – Giant portal with thousands of porn movies
With the VR Porn subscription, I also get access to the main page Wankz. That membership alone already costs $29.95 a month! So, a real bargain per WankzVR annual subscription! Here I get access to a huge portal with well over 1000 videos, photos, live TV and livecams! The quality is beyond reproach. Most of the videos are in Full HD format.
In addition, over 190 porn videos in 4K quality are available. And its growing daily. Big advantage, you can play all videos directly in the browser! The download is completely eliminated. Ciao YouPorn and Co. Almost all preferences are covered in the categories.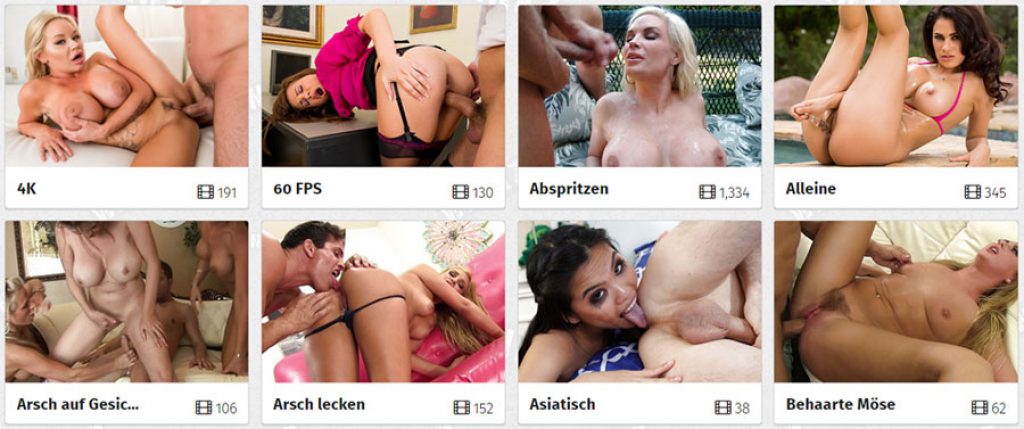 In the sub-tab "Pages", you will find many more studios belonging to Wankz. These include Exploited18, School Girls Internal, My Milf Boss and many more. Again, all pornos can be played directly in the browser. The streaming quality can be set directly in the browser, similar to YouTube.
A click on the gear icon and I can choose between 480p, 720p, 1080p. Only 4K can not be streamed directly, because of the huge size of the 4K videos. At a running time of 30 minutes, the file size for a 4K porn is on average about 4.5 gigabytes.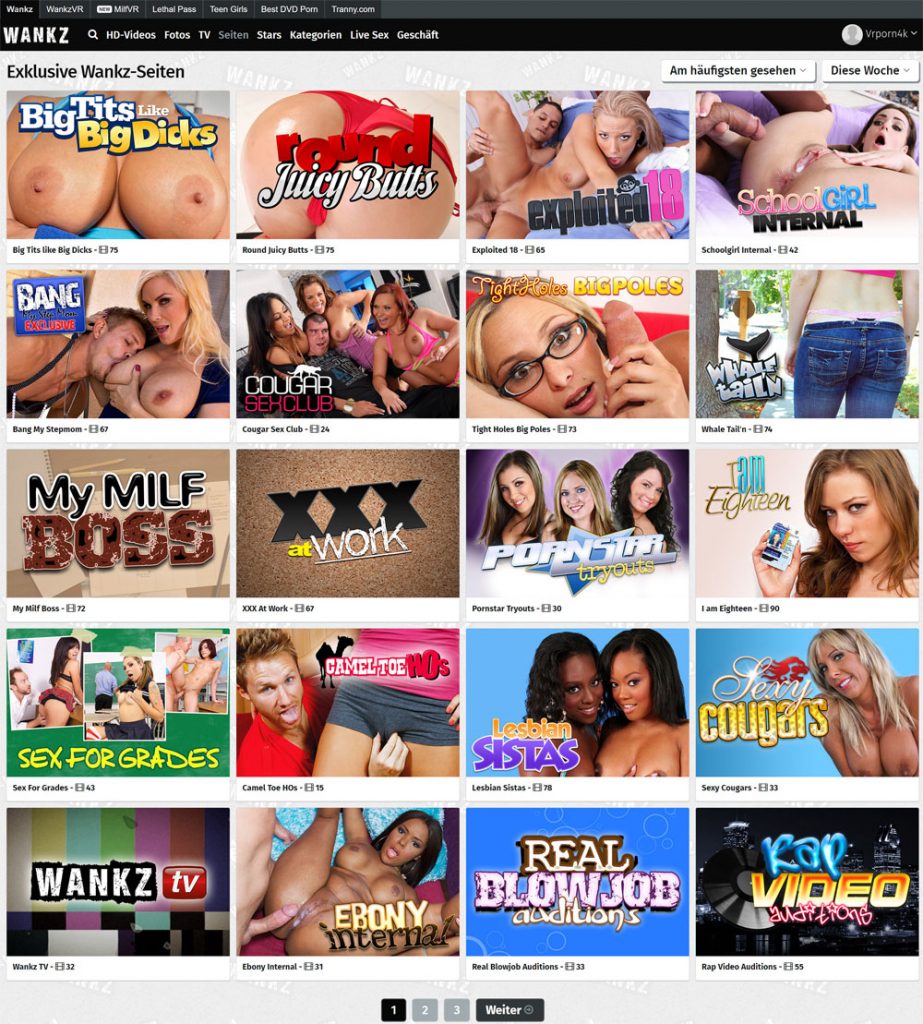 Lethal Pass has a similar size as Teen Girls and Tranny.com. Only the MilfVR offer costs extra. However, there is also a cheap combo subscription that combines WankzVR and MilfVR. It would be completely beyond the scope to list all other accesses in detail. Finally, this is about the VR porn program of WankzVR.
Only thing I can say is that an annual subscription pays off. On average, the membership costs about 7, – Dollars per month. You really receive a lot for the price. The selection is huge and goes beyond any frame known to me. Instead of bustling around with malware stuffed porn streaming sites, you get a solid selection in very high quality. The PC remains virus-free and your hand in the pants.

The Most Extraordinary Porn Experience of YOUR LIFE!
Wankz VR - Download free sample videos instantly and watch them now with your VR glasses
WankzVR Members Area
Lets come to the real deal, the VR porn program of Wankz. The members area is, as already mentioned, quite clearly structured. The VR videos can be sorted by date or rating. I myself can rate videos that I like with a "thumbs up". If you dont like one of them, there is a "thumbs down" button.
Furthermore, I can give my opinion on videos. A very important feature that many studios attach great importance to. Nothing is more helpful than feedback from subscribers. So, after getting a membership, be sure to submit your own feedback. That way, the quality of the videos can be steadily improved. Here is an excerpt from the customer reviews: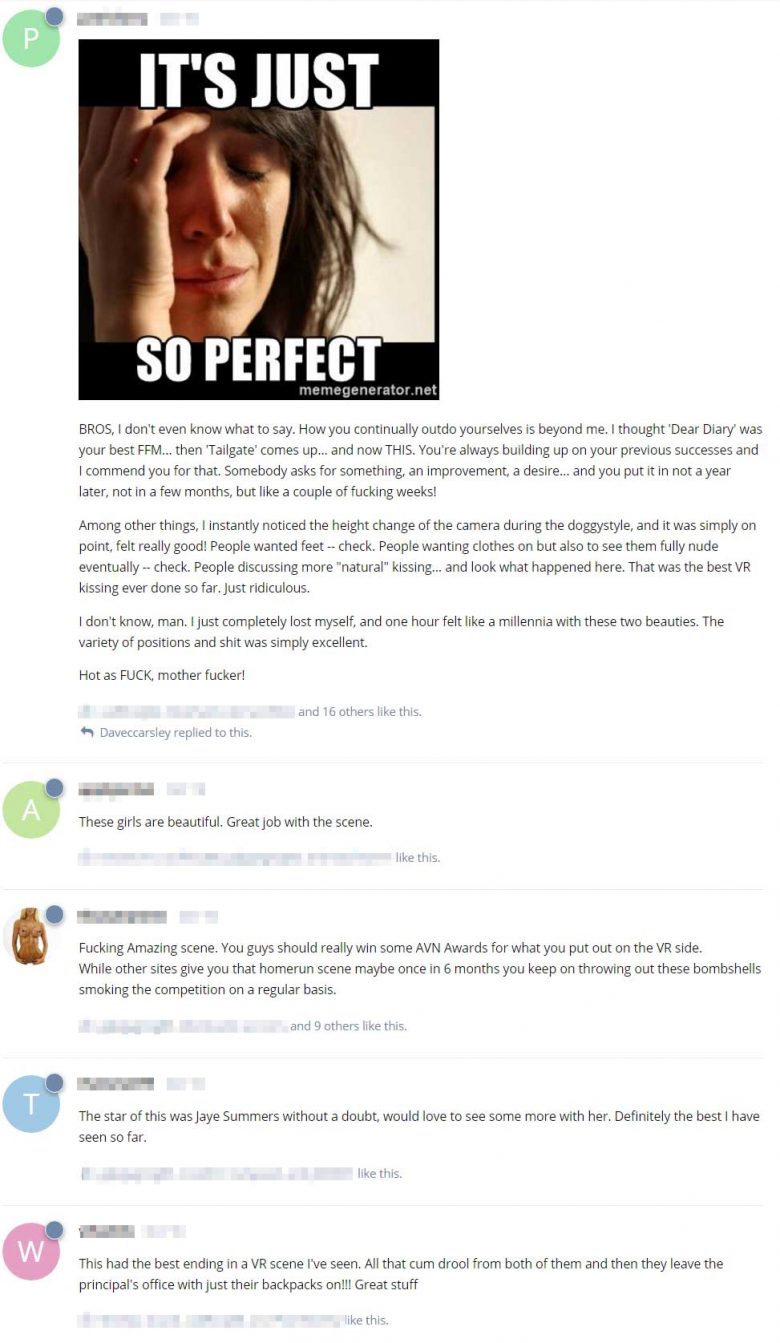 In this area, you already notice that there is a lot going on at WankzVR. The studio has a large number of members who continue to improve the program with plenty of feedback. A 3-day old video already has more than 30 comments. This looks quite different with studios like Hologirls VR.
The producers respond to individual requests and give their own feedback on the comments. Furthermore, a discussion forum for new suggestions and ideas can be found. Here, the producers also like to ask what their customers want to see next.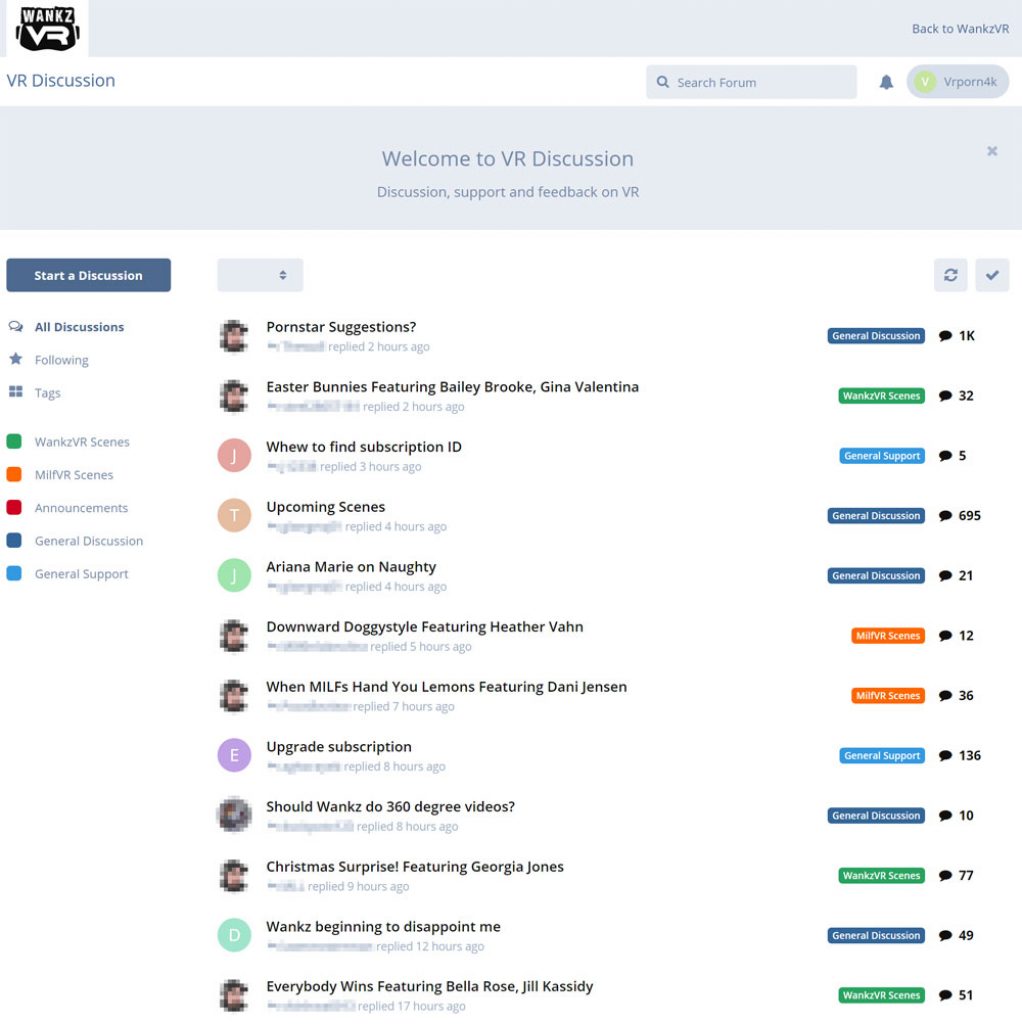 Many VR Porn fotmats for Oculus, HTC, Playstation VR, Smartphone and Co.
Striking is the gigantic file size of most videos. In the highest quality level, the size of a VR porn clip is about 13 gigabytes. This is mainly due to the length of the clips. Many VR scenes have a very long running time of 60 minutes. For my feeling, a little too long. I feel the best with 20-25 minutes so far. But if you want to get involved with the clips, you will be happy about 60 minutes.
Since I use the Oculus Rift CV1, I'm of course inclined to download all the videos in the highest premium quality. This costs a lot of storage space and makes another hard drive in my PC a must. Currently more than 200 VR porn movies come together in about 1,3 terabyte of data.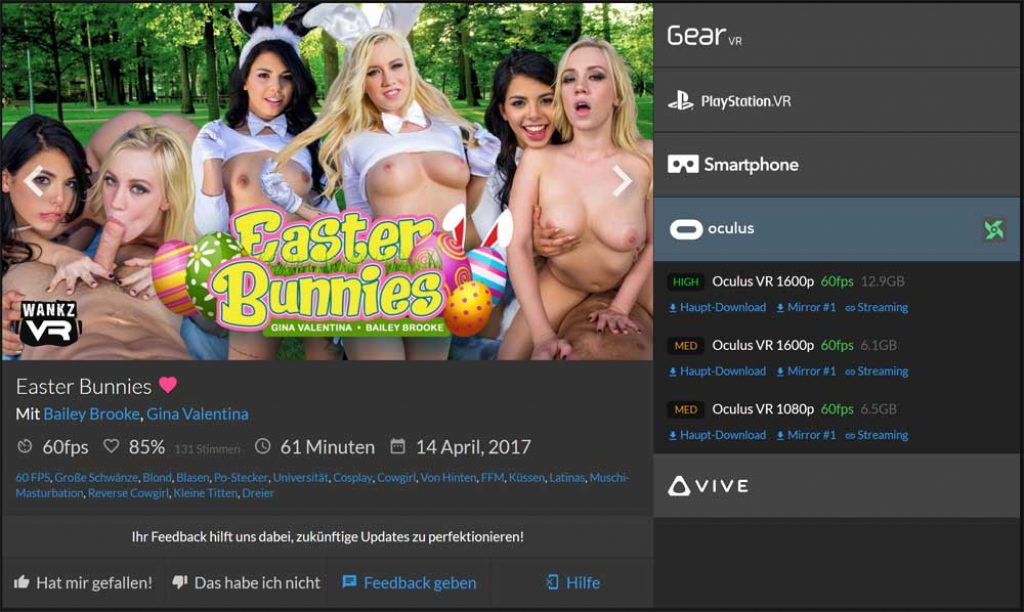 If you don not necessarily need the highest video quality, you can halve the file size to 6 gigabytes. The smartphone versions are very well compressed with 3.5 gigabytes and still offer a good picture quality. You can choose from other formats for the HTC Vive, the Playstation VR and the Gear VR.
The direct streaming function is very handy. So I do not have to load the clip on to my PC. Of course, my hunter-gatherer instinct does not allow this. I have to save all videos nicely sorted on my hard drive.
Another pro: I can keep the downloaded clips and play them anytime, even after my subscription has expired. Annoying is the naming of the videos. A nicely numbered system that starts at 001 would be far preferable instead of wankzvr-happy-threesome.mp4.
Experience the hottest girls with sexy curves up close
When asked by the actresses, I always point out that this is a matter of taste. Therefore, this aspect is not so much in the evaluation. Personally, the ladies at WankzVR are one of the hottest I´ve seen in any Porn clips. Many of them meet my taste exactly. From hot blonde and brunette to dark skinned and asian, all is represented. Unlike Czech VR, most of the porn actresses at Wankz are professionals who are not in front of the camera for the first time.
In the tab "Pornstars" you can see all actresses. With a click on the profile, you get a list of all clips in which the porn actress plays along. Very handy to sort quickly to your own taste. In general, it can be said that the overview and selection at WankzVR is very good.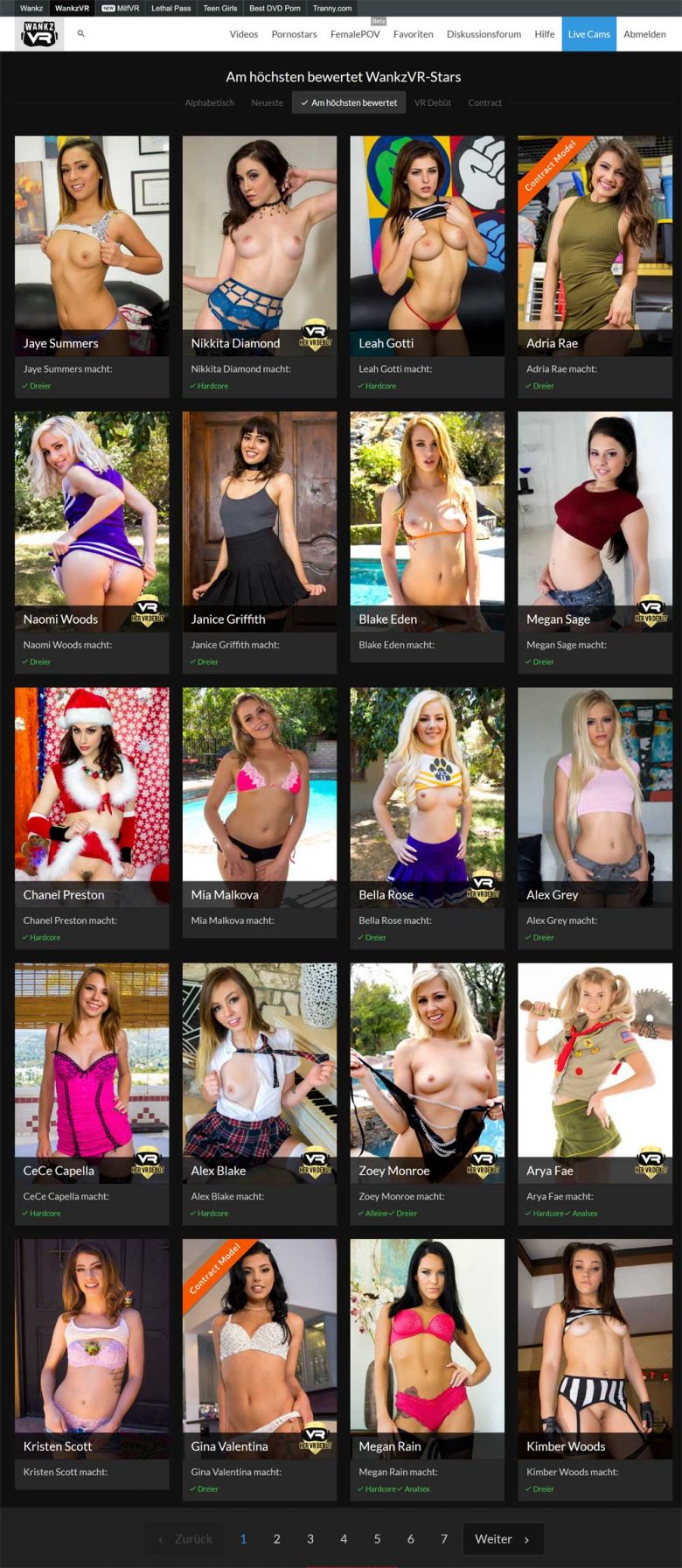 Astonishingly Immersive VR Feeling
The most important thing of course is the VR experience. Similar to most other studios, you feel completely immerseed in the clips of WankzVR. You are directly in the middle of the action. Everything feels like touchable. The director really places the camera skilfully. So the actresses look absolutely lifelike, as if they were standing in front of me / sitting / lying. No matter if doggy, missionary or rider position, the VR experience is very convincing.
The actresses are well trained and know how to behave in front of the camera in order to convey a very good virtual reality feeling. It is always amazing how VR deceives the senses. When the actress looks me in the eye, I feel intimate moments, before I realize again that I'm not really there. And all that after nearly 3 years of experience with VR porn 🙂
Great Image Quality with 60FPS in Real stereoscopic 3D
In terms of image quality, the studios donate hardly anything. All the VR studios I've tested have excellent picture quality with a whopping 60 frames per second. WankzVR is no exception. In the highest quality level for Oculus and HTC, you get a very clean picture without disturbing pixels. Everything is crisp clear. Only Hologirls VR offers an even better image quality. However, with significantly less choice of VR porn. In addition, very resource demanding. The WankzVR videos are available in 1600p, which is almost 4K quality.
The round visibility is good enough with 180 ° and saves storage space. 360 ° videos need twice the amount of data and are not very useful anyway, as behind the actres usually there is only a wall. The action is ahead. And that's where WankzVR can convince.
Of course, filmed in binaural 3D, which means that I get a real 3D experience with any VR glasses. Only then does everything look real, as if you were really there. The videos are in MP4 format. That saves resources. Thus, the VR videos are smoothly played back even on weakly bred PCs. In addition, when you forward the clips, there are no loading times.
Membership and Payment Options
As for the subscription, there are four options to choose from. I opted directly for the annual subscription for $6.57 a month. The total amount of $79.95 will be payable immediately upon completion of the membership. I can really recommend the annual subscription to any porn fan. Here you get access to thousands of videos in Full HD and even 4K quality. Everything can be streamed directly in the browser. The saving to the monthly subscription amounts to considerable 67%.
The monthly subscription hits $19.95 and also provides access to all 31 Wankz portals. To download all videos within a month, the PC needs, depending on DSL speed, to run probably 24 hours a day, 7 days a week. More attractive is the 3 month membership for $13.32 monthly. Here you have time to load everything on your computer and can also to use the wide range of other portals. There are two new VR videos every week. The $ 1.99 trial is valid for 2 days and allows you to download a single VR porn video.
If you also want to have access to the MilfVR offer, you can opt for the discounted savings subscription for both portals. I just bought the normal one-year subscription, which I find sufficient. Included in the double subscription are, of course, all other portals such as Wankz, Tranny.com etc. The savings subscription costs $ 29.95 per month. With the annual subscription, you get an average price of $ 11.50 per month.
The payment options are, unlike BaDoinkVR, very good. In addition to a credit card, you can also pay with PayPal or Bitcoins. Fortunately, I am in possession of a credit card. So I can pay easily, quickly and securely and get my access data immediately.
If you do not have a credit card, you can also switch to the completely free prepaid credit card from mycard2go. Perfect for those of you who do not want to pay an annual card fee. Only with the recharge of the credit, an amount of one dollar per charge becomes due. Furthermore, WankzVR offers the possibility to pay anonymously with Bitcoins.
Conclusion – My Experience with WankzVR
From currently 6 VR Studios, I certify WankzVR as my current winner. BaDoinkVR has to narrowly beaten. The reason for the victory is the immensely extensive package at a really fair price. If you are willing to fall back on the annual subscription, you get a lot of porn for little money here.
For just $ 6.57 a month, the customer not only receives over 200 excellent VR porn movies, usually with more than 60 minutes of running time. No, the huge portal with thousands of videos of the highest quality, offers a huuuge selection of all areas.
The clips can be played directly in the browser. No download needed. There are many categories for each and every taste. So you do not have to worry about malware infested porn streaming sites. The image quality of the VR clips can more than keep up with the other studios. Even if the image quality in Hologirls VR is a tick better.
The only criticism: The VR clips are, in the highest quality level, up to 15 gigabytes in size. You have to adjust to longer load times. However, this also speaks for the high picture quality. When downloading, I always had full bandwidth available and could download with 3 MB / s. I really recommend WankzVR to any porn fan. With a subscription, you can´t fail here.
Best VR Studio with Access to More than 31 Porn Portals
WankzVR is my personal favorite. The extensive program is, for the equivalent of $ 6.57 per month, hard to beat. In addition to the over 200 VR porn movies, you still have a huge selection of high quality videos in Full HD and 4K available. The sexy actresses should meet every taste. What does the porn heart want anymore?
PROS
Over 200 VR Porn clips in high quality
Huge portal with thousands of videos
Great image quality
Hot Actresses
Numerous video formats for Oculus, PSVR, Gear VR
Very good price-performance ratio in the annual subscription
2 new VR videos each week
CONS
Videos with the highest quality selection can be up to15 gigabytes in size

The Most Extraordinary Porn Experience of YOUR LIFE!
Wankz VR - Download free sample videos instantly and watch them now with your VR glasses